[ Home > Gas Scooters > 49cc Power Kart - 2012 Model, Smallest Gas Powered Go kart ]


49cc Scooterx Power Kart (Go Kart) - Smallest Gas Powered Kids Go Cart
2012 Model Free Shipping
49cc Power Kart - 2012 Model, Smallest Gas Powered Go kart Features
49cc 2-stroke motor
30-32 Mph stock
Rider weight capacity: 250 lbs
Kart Weight: 40 lbs
4.5x2.5 inch Solid rubber tires
60 miles to the gallon
Fuel Tank capacity: 1 liter
Recommended Fuel mix ratio 32:1(Gas/oil)
Chain driven
Trigger throttle and rear hand brakes
49cc Power Kart - 2012 Model, Smallest Gas Powered Go kart
Specifications
49cc Gas Engine
The 49cc Power Kart Go Kart comes standard with the following listed features.
Centrifugal Clutch
This is an Automatic clutch
Gear box
Racing style gear box, direct drive! No gear reduction!
Gas Tank
1 Liter
Solid rubber tires
These tires are meant for pavement or smooth surfaces only.
Rear Disc Brakes
Disc brakes are much safer than drum or band brakes(commonly used on chinese scooters) for the fact that they work much better.
Safety Flag
The flag gives you more visability and is intended for safety
Trigger Throttle
We use the trigger throttle on out go karts. Trigger is mounted directly to the handle bars.
Hand Brake
The brake is also mounted directly to the handle bars.
Top Speed 32mph!
Kart can go even faster with upgrades.
Max Weight
250 lbs
Shipping Details
This item ships Fedex
Warranty
30 Days, Free life time tech support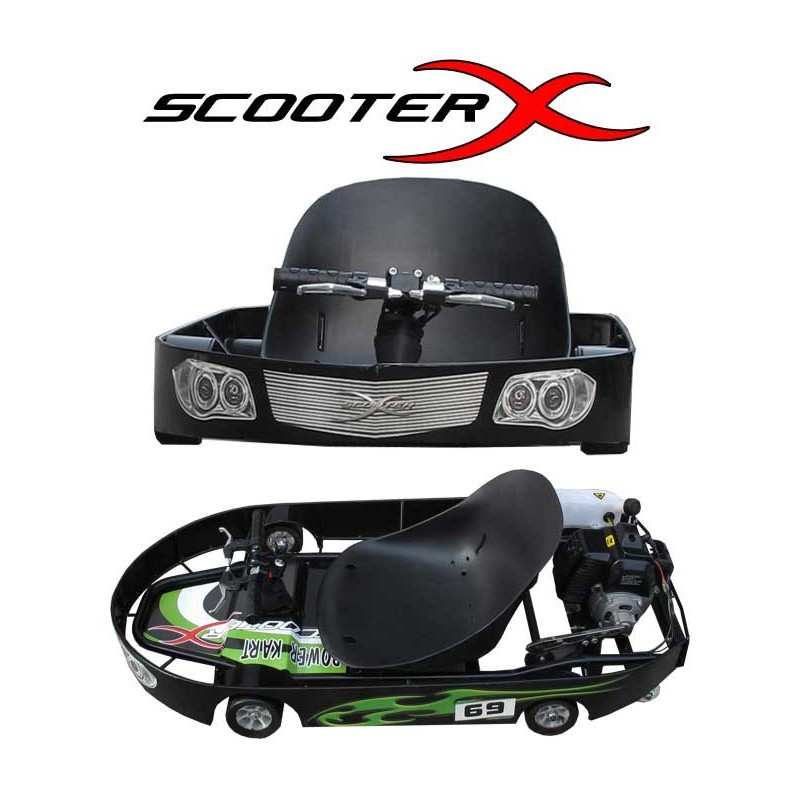 ---

We do not ship this Gas Power kart to California due to C.A.R.B regulations.
We do not ship Gas Scooters or Go karts outside the USA. Standard Shipping times apply to items shipped to the 48 contiguous states. No Free shipping outside continental USA. For Standard Shipping method to Alaska, Hawaii or Puerto Rico, add 2-4 days.

Related item(s) you may need:

---
---
---


Order online 24/7 or call 281-948 3985
Mon-Fri 9.00 am - 5.00 pm
Central Standard time.
Mailing Address:
Scootercatalog.com
17515 Spring Cypress RD,
Ste C156
Cypress, TX 77429

For more information or items you would like to see on our website,
Please send us an email to: sales@scootercatalog.com
---
Credit Card Safety.
Legal Disclaimer:
Electric Scooters | Gas scooters | Pocket Bikes | Dirt Bikes | Kid Scooters | Surf scooters
Scooter Parts | Scooter Maintenance | Scooter Tips & Safety
Links | View Cart | Privacy Policy | About Us | Terms | Search | Index

500 Watts Electric Bicycle | TRX Scooter personal transporter

Product Descriptions: We attempt to be as accurate as possible in all descriptions and Specifications. However, we do not warrant that product descriptions or other content of this site is accurate, complete, reliable, current or error-free. Most information is provided by the manufacturer. If a product offered by us is not as described, your sole remedy is to return it in unused condition.



Copyright © 2003 - 2013 Scootercatalog.com. All Rights Reserved.


Scootercatalog.com and it's content is the property of Scootercatalog.com. All other trademarks, logos and affiliate content of manufacturer names displayed on the website are the trademarks of their respective owners and are used for compatibility purposes only.



Accelerated Personal Mobility Delivered Since 2002